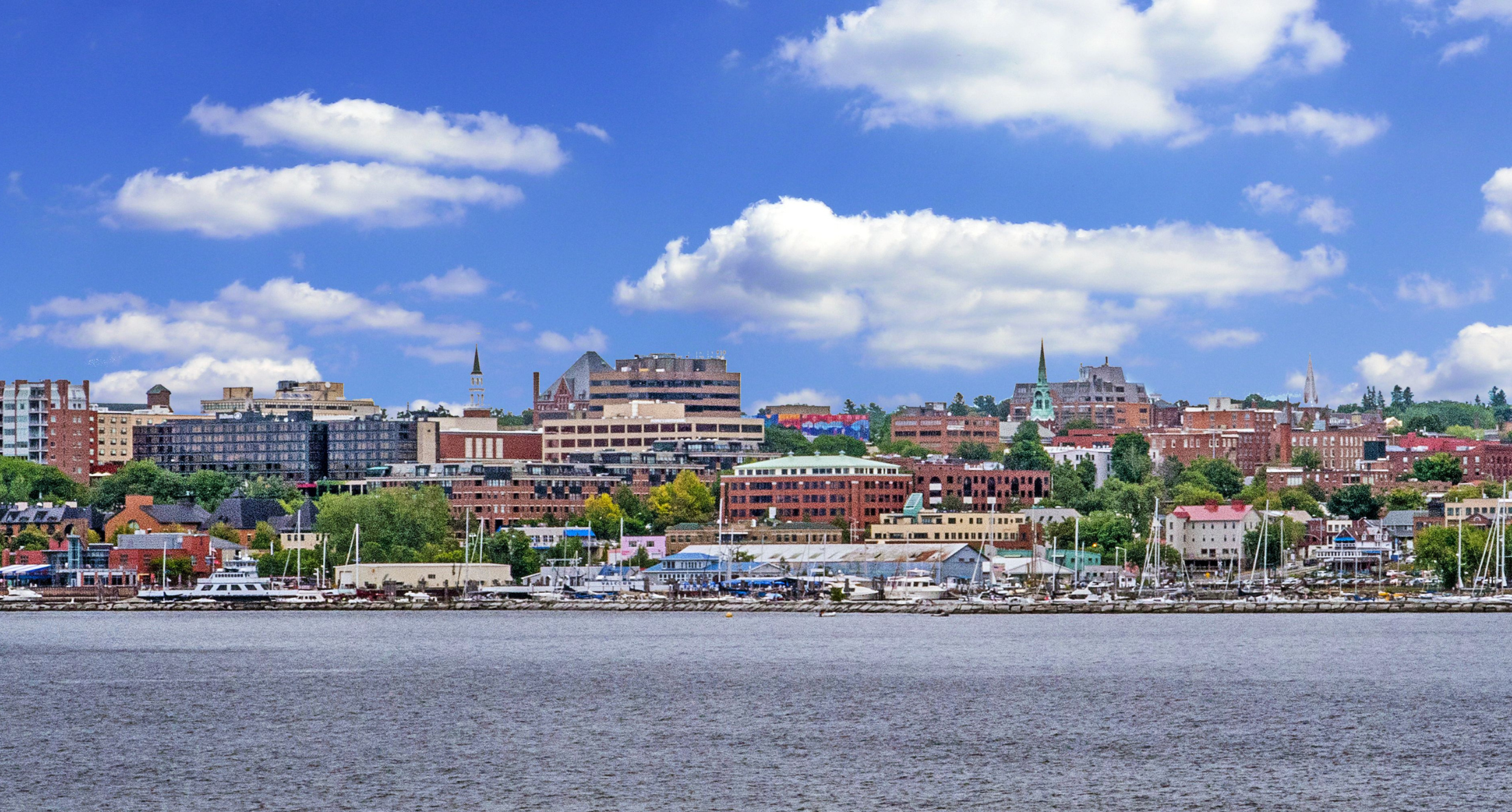 Written By: Brittany Blazey
At Sarah Harrington Real Estate, we have had the privilege of assisting our clients with their relocation to the beautiful state of Vermont. Over the past year alone, we have guided countless newcomers towards finding their dream homes. Throughout this journey, we have noticed a common curiosity among new residents – a desire to uncover the most delightful dining spots, shopping destinations, recreational activities, and exploration opportunities. To satisfy this longing for discovery, we have crafted an exceptional guide featuring a carefully curated selection of our team's personal favorites in Burlington, Vermont. With our in-depth knowledge of the area, we present to you an assortment of extraordinary experiences that capture the essence of this vibrant city!
1. Beautiful Town Parks.
Ask a Vermonter what they do on their summer weekends and you can guarantee that their plans will include getting outside. Red Rocks Park is a 100-acre hiking area and relaxed swim spot offering 700 feet of waterfront. Traverse the beautiful cliffs and then hop in for a refreshing swim in Lake Champlain. Finish off your day with a BBQ at the picnic area complete with grills–just bring your own supplies, charcoal, lighter fluid, etc…Summer gate hours are 8:00AM to 7:00PM daily starting the Tuesday after Memorial Day to Labor Day.
Leddy Park is another favorite park of ours in Burlington, Vermont. Bring your own barbecuing supplies to use the public grills and enjoy swimming at the beach nearby. There are activities for everyone to enjoy from public tennis courts, basketball courts, softball field, soccer field, pickleball, and more!
2. Bike Path.
Burlington, Vermont is one of the most bike friendly cities to live in. This is why we encourage cruising around downtown and the waterfront like a local on a bike from Local Motion! You will enjoy riding down the beautiful Island Line Trail to the Local Motion Bike Ferry. This ferry brings you up to the Champlain Islands with an encouraged $10 donation for the trip. The summer daily service runs from Friday, June 18th to Monday, September 6th.
Island Line Trail Video:
Need a snack after your ride? Your best summer day in Burlington, Vermont is not complete without a visit to Bob's Creemee Stand. Higher in butterfat content, creemees are like soft serve ice cream, but better!
3. Libations.
Vermont is known for its wide variety of craft selections from beer, cider, liquor, and wine to even soda and tonic waters. For craft beer fanatics', you can't go wrong with Zero Gravity Brewing and Switchback Brewing. Zero Gravity offers a wide selection of beers including IPA's, Sour Ales, and Stouts. They also offer food from the phenomenal restaurant next door The Great Northern with our favorite dishes including: Maine Smoked Scallop Poke and Frank's Dry Aged Steak Sandwich. At Switchback Brewing, enjoying a cold brew on the outdoor patio is a special treat. This ultra dog-friendly tap room is sure to please the pickiest of IPA's lovers in your life. After you finish your brew, take a walk down to Oakledge Park to hike around and watch the sunset.
Beer not your thing? Try Citizen Cider including our favorite, Dirty Mayor which is a hard-apple cider with lemon and ginger. They also have a new hard seltzer offering including: "Apple All Day," "Lemon Spritz," "Ginger Love," and "Hibiscus Lime." Enjoy outdoor seating, pub food, and mingle with the locals at their relaxed taproom.
Walk a few blocks down the road on Pine Street and you'll hit Dedalus Wine Shop. This summer Chef Micah and the Dedalus team are bringing BBQ on the Terrace to Burlington from Wednesday to Saturday, 4PM to 10PM with no reservation needed. The menu includes everything from champagne, white wine, red wine, rosé to savory culinary creations like wagyu flank steak, and chorizo!
4. Eateries.
Now, let's walk you through a day of eating in Burlington, Vermont.
Breakfast.
We fell in love with women-owned TomGirl Kitchen for their delicious and nutritious menu items including fresh pressed organic juices and Instagram-worthy smoothie bowls. You have the option to take your breakfast to-go or sit down on their outdoor patio. We recommend that you explore the Soda Plant and others shops on Pine Street either way!
Lunch.
Right off Church Street Marketplace is the infamous restaurant Hong's Chinese Dumplings. Her team serves up the most delicious, mouthwatering, and pillowy soft dumplings in the country. Don't believe us? Watch the episode of Diners, Drive-In's, and Dives, where Guy Fierri puts his stamp of approval on this once popular Church Street Marketplace food cart turned to a successful restaurant!
Dinner.
In the heart of Burlington right on the end of Church Street Marketplace is the locally owned Mediterranean restaurant called Honeyroad. If you're looking for a taste of the eastern Mediterranean, look no further than this local gem in Burlington, Vermont. Chefs Cara Chigazola-Tobin and Allison Gibson have created a restaurant that is truly a feast for the senses. From the silky smooth baba ghanoush to the succulent braised lamb chops, every dish is cooked with love and crafted to perfection!
5. Events & Activities.
Pack up your sunscreen, towels, and a picnic lunch! We're heading down to the Lake Champlain Sailing Center for a fun day of sun and surf! From August 2 to September 6th drop-ins are welcome to rent water crafts (for 2 hours maximum) including dinghies, paddleboards, kayaks, and canoes at the CSC. Looking to stay on land? The Sailing Center also offers Yoga On The Dock (and deck) for $15 (drop-in) from May 1 to September 5th. WND&WVS' is also an option for those looking to enjoy some waterfront fun. Join a group of passionate watermen and women for day-use paddleboard rentals and prime beachfront at Burlington Surf Club. Whether you choose the CSC or WND&WVS', both will give you the opportunity to make local connections while relaxing and taking in the views of Lake Champlain!
Want to keep the lakefront fun going? Hop on The Spirit of Ethan Allen for a scenic narrated cruise, Champagne brunch cruise, or sunset cruise among others. Prices will vary depending upon the types of cruising adventure that you choose to take!
6. Church Street Marketplace.
It's time to shop until you drop! It's hard to not fall in love with Church Street Marketplace. With Vermonter owned shops throughout you're helping our economy and supporting a neighbor's dream by shopping here. A few of our favorite boutiques include Monelle, Ecco, and Dear Lucy Shoes. As for other local shops to explore, some of our favorites include Kiss The Cook and Homeport for the best unique home gadgets and décor items.
7. Burlington Farmers Market.
You can't come to Burlington in the summer and not attend the farmer's market. It's a Burlingtonian staple. We love perusing the vendor stands and conversing with local makers and producers. It's a fun way to make community connections! Our team loves Barr Hill for the best local gin for cocktails. Nomadic Kitchen Confections for their "Dulce de Leche" marshmallows that make the best campfire smore. Maple Wind Farm for the highest quality pasture-raised meats as needed for your barbecuing festivities. There are so many more local vendors that we love too, but recommend that you visit to see which might be your new personal favorites. You can discover other local BFM vendors to support within their Summer Vendor Directory.
There are so many fun things to do in Burlington, Vermont during the summer. From dining to docking, there's something for everyone to enjoy! We hope that you found our article to be helpful and look forward to helping you find a home here. Contact Sarah Harrington at sarah@sarahharringtonre.com to begin the process of finding your perfect home in Vermont today!